Expatriate family from U.S. victim of home invasion and assault in Ecuador
On October 7, 2012, at 12:30 am, expatriate Robert and Barbara Brockhart a married couple from Chicago, Illinois and their thirteen-year-old daughter were asleep. in their newly constructed home. The home is located at a development outside of San Vicente Ecuador called "Palmas de Briceno". Three assailants broke into the residence through a window. Two of the criminals were armed with handguns, and the third wore a mask. The development is located 17 km north of Bahía de Caráquez Ecuador.
THINKING OF MOVING TO ECUADOR OR LIVE THERE ALREADY? READ THIS INVALUABLE REPORT ON THE CRIMINAL JUSTICE SYSTEM – ONLY $1.99
According to Mr. Brockhart he was awoken by his wife's screams. She had been pistol whipped after awakening to find a weapon aimed at her head. Another assailant pointed a gun at Mr. Brockhart and was ordered to silence his wife. The unarmed thug with the mask ordered the victim to give him the keys to the car. When he tried to tell the thief that he didn't have the keys, the assailant went to a drawer and pulled them out.
Brockhart ushered his daughter and wife into a bathroom and briefly struggled with the assailants on the other side of the door to keep them from entering. The bandits stole electronic items, cash, cellphones and left in the victim's vehicle. It was later found abandoned by police.
The victim and his family who reside in the only home in the development of about twenty seaside lots, tried to get assistance from an Ecuadorian living near the property without any luck. He attempted to get help without any luck an the sparsely driven road by the project. Then with limited time on his daughter's phone, he put out an SOS on Facebook, on the Expat group for Ecuador. One of his friends realized what was going on and help coordinate the police to arrive about an hour and half later. The victim attempted to call the fire department in San Vicente but because of his limited Spanish, they hung up on him. Finally he made contact with the police department and attempted to get directions to the property.

REAL ESTATE IN ECUADOR – HAVE PROPERTY IN ECUADOR – POST YOUR REAL ESTATE HERE
A fire truck and police arrived. With no stretcher, they constructed a makeshift unit with bamboo poles and a sheet to get her to a pickup truck. She was then transported to a hospital in Bahia Carquez where she received treatment for non life threatening injuries. She has been released from the hospital.
Mrs. Brockhart is now home with her daughter and husband who were not injured. He submitted to authorities that he believed that the assault may have been an inside job from one of the contractors working on the house. He believed that with only one of the men wearing a mask and knowing where the car keys were, that it pointed to someone with knowledge of the house. When the husband and father was asked if they planned on staying or leaving Ecuador, he responded that the family had not discussed that topic yet.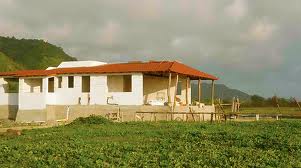 Map is location of San Vicente Ecuador/The development named in the article is located near San Vicente.
SOURCE OF PICTURE: Ecuadorliving.com